Autumn Gardening Classes recommence on September 5 and 7th. 10 - 1 pm .
What to do Now in August first month in  Autumn
Garden centres are now stocking up with a magical collections of Spring bulbs. Make a list, look at catalogues, photos, wish lists and decide what you would like and where you will plant them, ground containers etc. Tulips are the last bulbs to plant.Also as the garden is still at its height opportunity to plant so that as the leaves die back after flowering they can be hidden.
Cut your box headging, lay some sheeting at base to make it easier to collect trimmings and compost after.Also better to be narrow on top so as to allow sun at base of hedge.Best to cut in dull dry conditions.
Tip prune fruit trees, harvested fruit, if you don't have time to make jam or chutneys now freeze until you have time. Allow some broad beans and peas to ripen to produce next years seed.
Still time to sow carrot seeds.Plant leeks where you had potatoes growing and plant purple sprouting broccoli, which is probably the best veg to grow as it rewards you so well.If you can also perpetual spinach is a fantastic crop to have for winter harvesting. Ordinary spinach is very prone to bolting.
Keep on top of weeds with your Osslating Hoe ( have some in stock).Hoeing in the morning will dry out soil in the evening the opposite.
Keep watering. Watering tomatoes plants use a bucket and water when the soil

 

is dry but keep a schedule every 3 or 4 days. If the plants are in grow bags or small pots they may need more frequent watering. Also remember to pinch out the axil shuts to encourage vigour in main stems.vigour
Continue dead heading for continuous flowering of annuals such as sweet pea, cosmos and dahlias when the start flowering.Mark the colours of sweet pea and cosmos which will provide the seed you might like to save and any otters plants in the garden which will provide seed for saving later on in the season.
Take cuttings of your favourite plants. Use a mix of compost and grit erring on the grit.Keep well watered and out of direct sunlight.If leaves on cuttings are very large reduce or remove to slow down evaporation.Try to take cuttings that are about the size of a pencil and only take from a healthy plant.Place around the sides of a pot preferably a pre water soaked terra-cotta, don't be tempted to place a cutting in the centre. Many cuttings fail so take lots. Best take cuttings in the early morning and place in a plastic bag to help them stay alive.
Start to prepare areas of lawn for re seeding or consider sowing with wild flowers. There are great mixes available, for bees, and butterflies.
Visit other gardens for ideas , including my own !!!! Have a look at the Dublin Garden Trail .
Osslating Hoes back In Stock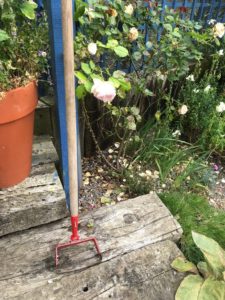 Mornington Garden No dig
Botanical Mono Printing and Sketching in the Garden June 2108
Ants in the Garden
Are ants in the garden bad? The good and bad news about ants and plants. Just as a weed is a plant growing in the wrong place, insects in the wrong place are pests. Ants play a very important role in the ecology of your garden for good and for not so good. ... Ants are predator and prey since they eat the eggs of many insects and serve as food for birds, lizards, and other beneficials. Their tunnels aerate the soil and allow water and nutrients to flow directly to the plant roots. They also distribute seeds by storing them in their tunnels. The caterpillars of some butter­fly groups - read more on Blog page
Mornington May 17 2018
How to prepare for the winter
with  Klaus Laitenberger              
  21 September 2019
How to prepare for the winter – green manure, seaweed, covering with plastic etc.  Growing winter crops – garlic, broad beans and winter salads. Using your tunnel or greenhouse in winter. Planning for next year.