Due to Covid restrictions Classes will be held via Zoom, until restrictions are lifted.
---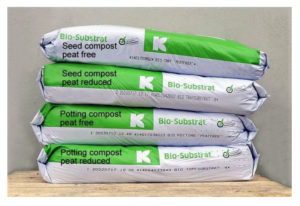 Klasmann Peat free compost has now arrived contact me  087 2256365,   dalkeygarden@gmail.com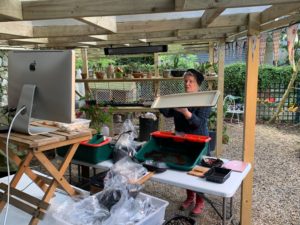 Zoom class last week, what it really is like !! If you would like to join give me a call.Thursday evening classes starting in March, hope morning classes will be back in the garden then. click here for more information.
Getting rid of weeds now saves so much grief later on .
Have taken a delivery of some more hoes, also organic peat free compost .
Hoeing now disturbs slug eggs, reducing their population, reducing loss of baby shoots.
A most popular tool! The double action Oscillating Hoe has an outstanding reputation for being fast and effective.  Also called the stirrup hoe.
How to use: Stand in an upright position holding the long handle. Move the hoe backwards and forwards using small movements (10-15cms) so that the hinged bladed moves back and forwards in the soil. The blade is parallel to the ground and cuts the weeds off at the root.
The blade of the oscillating hoe works parallel to the ground.
Weeds are undercut by pushing/pulling the sharp blade through the top layer of the soil.
Effect - weeds cut off and soil surface loosened for better air/water penetration.
Bllades are made of high tempered spring steel to stay sharp.
Hoe widths available: 125mm & 85mm (other on request).
Blades are screwed on for easy replacement.
Price does not include delivery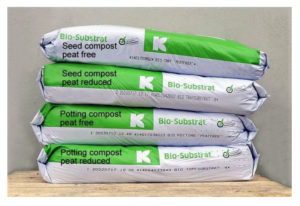 Klasmann Peat free compost has now arrived contact me  087 2256365,   dalkeygarden@gmail.com
Mornington 1st August 2020
---
Pruner designed for smaller hands.
---
Designed for those with smaller hands who may prefer a smaller, lighter pruner.  It's comfortable to use yet every bit as sturdy and powerful as any other of the Felco pruners.
This great tool is ideal for small pruning work such as grape vines, shrubs and young trees, it is also the first choice of many florists. The anvil blade is screw-mounted for easy replacement. The shorter blades facilitate closer cutting to the stem of the plant.More information
---
Mornington Garden

 is open to small groups for garden tour with morning coffee or afternoon tea.
Booking is essential, we will be abiding with all  gov.ie regulations
m 087 2256365  dalkeygarden@gmail.com
Annmarie
P.s. closed on Mondays and Tuesdays, also Tuesday 4th. August - Saturday 8th. August inclusive.

Mornington Garden No dig
Botanical Mono Printing and Sketching in the Garden June 2108
Mornington May 17 2018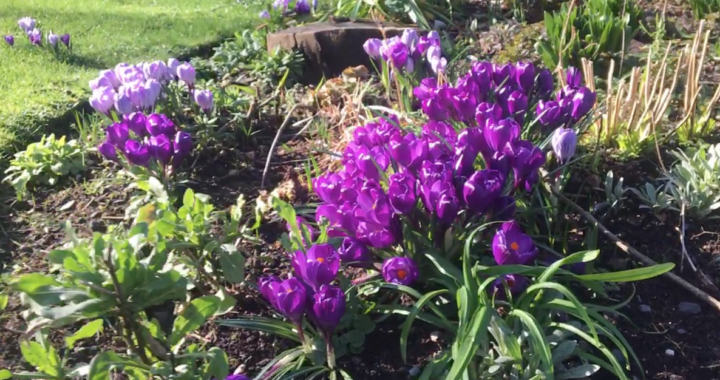 What to do Might do in March
Get rid of those perennials weeds now and hoe your paths on dry days.Though dandelions  are a fantastic source of early pollen for our bees.
As the soil warms up, so do the slugs. A application of Nematode can work wonders, but simply using your Osslating hoe can disturb slug eggs and nature will do the rest. Seed trays in a protected structure check the bottoms for lurking creatures and remove before they devour your precious seedlings.
Pot up  dahalia tubers, other summer flowering bulbs, such as: Gladiolus, Freesia, Begonia, Oriental Lily, Bearded Iris, Liatris spictata, in other words quite a selection of bulbs,tubors, and corms. If you are unsure where to place them in your garden plant  in pots and when in bloom, position into those gaps where they will shine.
All the seedlings you have sown, most should have germinated by now, if they have been on a heat mat, take them off now. Some can also be potted up into individual containers.
So now that your heating mats or cables or window cells are bare, there are many more seeds that can be sown now such as : sunflowers, hollyhock, lettuce, larkspur, cauliflower, turnip, kale into you beautifully prepared ground you can sow, poppies, carrots (choose a variety that is root fly resistant)

 

and chard.There is more.
Still time to chit potatoes, if the ground is not frozen or waterlogged you can start sowing First Earlies, either in the ground or pots towards the end of the month.
Check on-out door containers, drying out can be a problem especially as growth begins again.
Snow drops, can be decided and replanted in more interesting spots. Daffodils, dead head and allow leaves to die down naturally as leaves are feeding bulbs for next year-final retreat can be as late as mid June.
Last chance to plant bare rooted trees and shrubs.
Prune overwintered fuchsias back to one or two buds on each shoot.Prune winter-flowering jasmine (Jasminum nudiflorum) after flowering, to encourage new growth for next year's blooms. Trim winter-flowering heathers as the flowers disappear, to prevent the plants becoming leggy.