Classes will be held in Mornington Garden. i can also provide Gardening workshops via Zoom.
---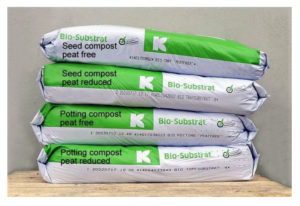 Certified Organic
Klasmann Peat free 

com

post  
When sowing seeds you need a sterile medium.
When potting up you need a compost that will start to feed your new plants.
Please contact me 087-225665 
Price does not include delivery  Limited stock buy now  
Getting rid of weeds now saves so much grief later on
Hoeing now, disturbs slug eggs, reducing their population, reducing loss of baby shoots.

A most popular tool! The double action Oscillating Hoe has an outstanding reputation for being fast and effective.  Also called the stirrup hoe.
How to use: Stand in an upright position holding the long handle. Move the hoe backwards and forwards using small movements (10-15cms) so that the hinged bladed moves back and forwards in the soil. The blade is parallel to the ground and cuts the weeds off at the root.
The blade of the oscillating hoe works parallel to the ground.
Weeds are undercut by pushing/pulling the sharp blade through the top layer of the soil.
Effect – weeds cut off and soil surface loosened for better air/water penetration.
Blades are made of high tempered spring steel to stay sharp.
Hoe widths available: 125mm & 85mm (other on request).
Blades are screwed on for easy replacement.
Price does not include delivery
Mornington 1st August 2020
---
Pruner designed for smaller hands
---
Designed for those with smaller hands who may prefer a smaller, lighter pruner.
It's comfortable to use yet every bit as sturdy and powerful as any other of the Felco pruners.
This great tool is ideal for small pruning work such as grape vines, shrubs and young trees, it is also the first choice of many florists. The anvil blade is screw-mounted for easy replacement. The shorter blades facilitate closer cutting to the stem of the plant.
---
Mornington Garden

 is open to small groups for garden tour with morning coffee or afternoon tea.

Booking is essential, we will be abiding with all  gov.ie regulations
Mobile: 087-2256365
Email: dalkeygarden@gmail.com
Annmarie
P.S. closed on Mondays and Tuesdays, also Tuesday 4th to Saturday 8th August inclusive.
Mornington Garden No dig
Botanical Mono Printing and Sketching in the Garden June 2108
Mornington May 17 2018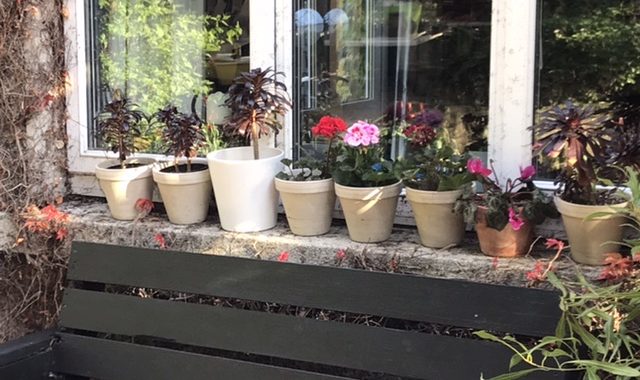 Lawn Care
Mow you're lawn every 5 days , this will stimulate growth leaving behind your grass clippings allows you to retune some of the nutrients used for growth to return and feed soil again.
If you have some broad leaved weeds, remove by hand, apply a mix of lawn seed and compost to recover the exposed soil. Small seeds germinate best on an even damp surface.Until patches have established, water.This is also a perfect time to sow a new lawn. Weather conditions, soil temperatures and light  are just right for excellent germination and strong growth. The last couple of weeks we have had lots of wetting rain, therefore the soil is nice and damp.
The best time to water all plants and seedlings, is as early in the day as possible.It leaves time to dry before nightfall, which helps prevent fungal diseases.
This is also a perfect time to sow a new lawn or wild meadow area. Weather conditions and soil temperatures are just right for excellent germination and strong growth.
The best time to water all plants and seedlings, is as early in the day as possible.It leaves time to dry before nightfall, which helps prevent fungal diseases.
Watering tomato plants and ornamental containers , use a bucket for watering for deep penetration of water. Keep a schedule, you can train plants not to need too much. If the tomato plants are in grow bags or small pots, they may need more frequent watering. Also remember to pinch out the axil shoots to encourage vigour in main stems.Container grow plants need to be fed, as slow release fertiliser begins to run out after 6 weeks. Especially in dry weather when adding water you re also flushing out nutrients.Which need to be replaced in quickly growing plants producing lots of flowers. Flowers on a tomato plant = tomatoes.
Harvest your early potatoes.Try and see how big they are. "Earlies" should be flowering mid June.
Where you had potatoes growing plant  Purple sprouting broccoli which is probably the best veg to grow as it rewards you so well.
Cut your box hedging, and all other hedging. Place some sheeting at base to make it easier to collect trimmings and compost after. Also flowering shrubs, now finished ,  time to prune, for shape and also to stimulate fresh growth for next years flowers.
Fill those gaps left by bulbs with annuals and also perennials where you can see the gaps with the remaining leaves still hanging. I find you are less likely to disturb your bulbs if there is still some foliage. Cosmos, Sweet Pea, Nasturtium , Nicotiana, Lunaria, also an opportunity to plant Dahlias growing in pots — not an annual. All of these will flower until the first frosts in October.
Now is a good time to sow carrot seeds.Plant out cucurbits such as pumpkins and courgettes — if grown under cover harden off for a couple of days. Still time to grow from seed. Peas and beans also. In my garden I also will plant out leeks with my carrots.
Keep on top of weeds with your Osslating Hoe.Hoeing in the morning will allow the beheaded leaves wilt.
Take cuttings of your favourite plants first thing in the morning.Have your mix ready of compost and grit erring on the grit.Keep well watered and out of direct sunlight.If leaves on cuttings are very large reduce  to slow down evaporation( you need some leaf).Try to take cuttings that are about the size of a pencil and only take from a healthy plant.Place around the sides of a pot preferably a pre water soaked terra-cotta, don't be tempted to place a cutting in the centre. Many cuttings fail so take lots also don't take any that are unhealthy. At this time of year you will be taking 'soft wood' material.
You can make your own plant food, by soaking seaweed (loose on a beach never cut seaweed) in a bucket and diluting making a much weaker liquid ( like weak tea) often a strong solution can burn plants. Also soak nettles, comfrey and finally make an infusion from manure.
Mornington Garden is open to visitors .Why not come for coffee or afternoon tea.Also I can organise a private gardening class for groups of 4 or more. Enjoy the long the long days of summer.Take the odd day off and visit other gardens on the www.dublingardentrail.com.