OSCILLATING OR STIRRUP HOE - FANTASTIC WEEDING TOOL
---
Getting rid of weeds now saves so much grief later on .
Hoeing now disturbs slug eggs, reducing their population, reducing loss of baby shoots.
A most popular tool! The double action Oscillating Hoe has an outstanding reputation for being fast and effective.  Also called the stirrup hoe.
How to use: Stand in an upright position holding the long handle. Move the hoe backwards and forwards using small movements (10-15cms) so that the hinged bladed moves back and forwards in the soil. The blade is parallel to the ground and cuts the weeds off at the root.
The blade of the oscillating hoe works parallel to the ground.
Weeds are undercut by pushing/pulling the sharp blade through the top layer of the soil.
Effect - weeds cut off and soil surface loosened for better air/water penetration.
Bllades are made of high tempered spring steel to stay sharp.
Hoe widths available: 125mm & 85mm (other on request).
Blades are screwed on for easy replacement.
Price does not include delivery
Pruner designed for smaller hands.
---
Designed for those with smaller hands who may prefer a smaller, lighter pruner.  It's comfortable to use yet every bit as sturdy and powerful as any other of the Felco pruners.
This great tool is ideal for small pruning work such as grape vines, shrubs and young trees, it is also the first choice of many florists. The anvil blade is screw-mounted for easy replacement. The shorter blades facilitate closer cutting to the stem of the plant.More information
---
Mornington Garden

 is open to small groups for garden tour with morning coffee or afternoon tea.
Booking is essential, we will be abiding with all  gov.ie regulations
m 087 2256365  dalkeygarden@gmail.com
Annmarie
P.s. closed on Mondays and Tuesdays, also Tuesday 4th. August - Saturday 8th. August inclusive.

Mornington 1st August 2020
---
Tips and tricks to make gardening easier with  Klaus Laitenberger  
Postponed Until Further  Notice
Very excited to welcome  Klaus Laitenberger  

 who is one of Ireland's and Europe's most respected vegetable growing horticulturists, where he is renowned for his expertise in soil management and organic gardening.  In fact, he is regarded as an organic vegetable gardening expert. He writes for various vegetable growing and gardening publications specialising in organics and soil sustainability
Mornington Garden No dig
Botanical Mono Printing and Sketching in the Garden June 2108
Ants in the Garden
Are ants in the garden bad? The good and bad news about ants and plants. Just as a weed is a plant growing in the wrong place, insects in the wrong place are pests. Ants play a very important role in the ecology of your garden for good and for not so good. ... Ants are predator and prey since they eat the eggs of many insects and serve as food for birds, lizards, and other beneficials. Their tunnels aerate the soil and allow water and nutrients to flow directly to the plant roots. They also distribute seeds by storing them in their tunnels. The caterpillars of some butter­fly groups - read more on Blog page
Mornington May 17 2018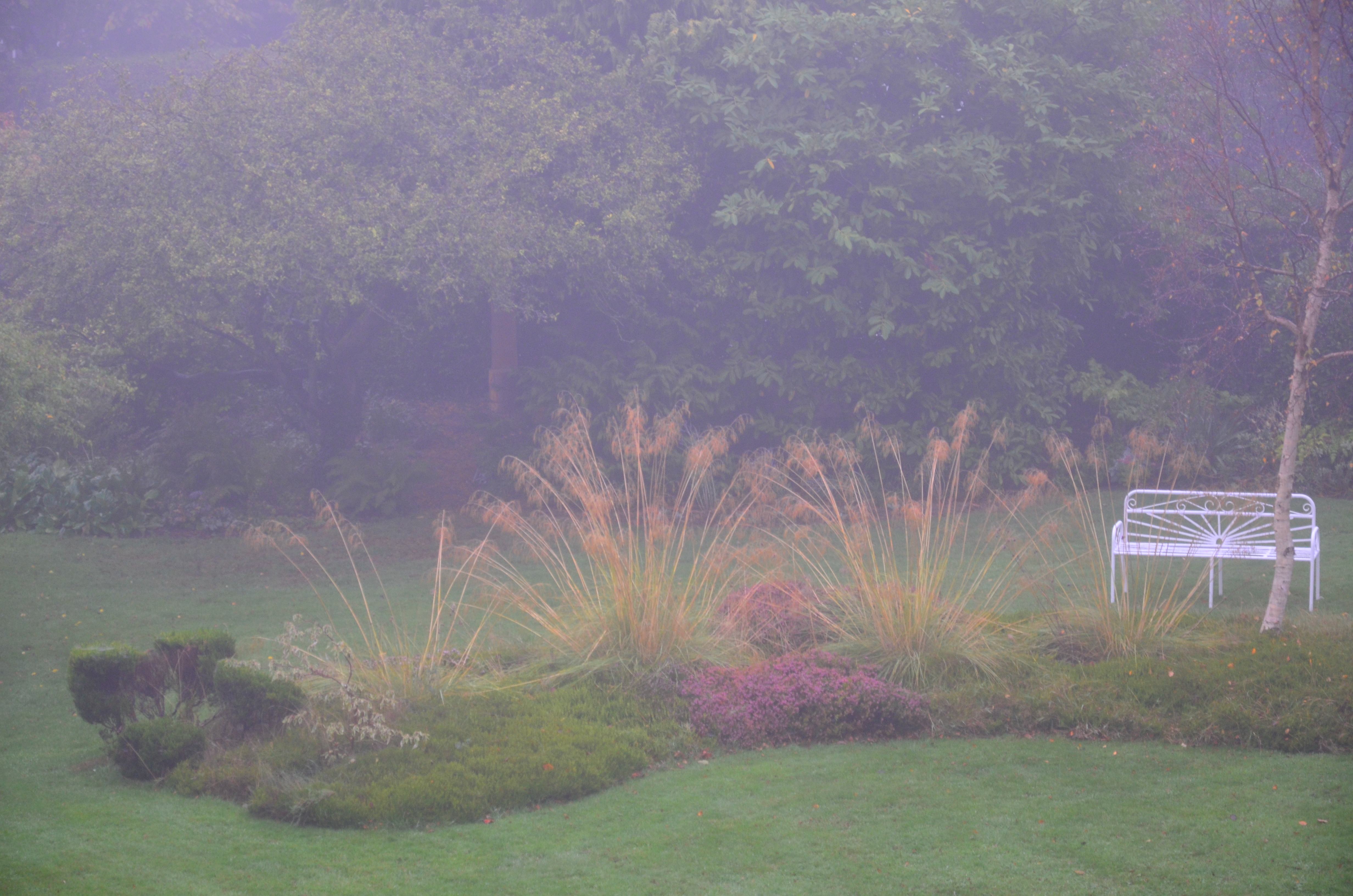 Lots to do, just some ideas for your September list.
Start your compost heap — compost is garden gold. Compost seals in the moisture of the soil, protects soil surface during heavy rain, feeds all the creatures, micro organisms, bacteria, fungi which is the essence of and basics of a healthy growing garden.It is free resource, and you are returning to the soil what you have taken from it.You can make a liquid feed from your compost. Place some compost into a porous bag — soak for a couple of days, liquids now a feed for your Camellia, Rhododendrons and Magnolias, as they are busy producing flower buds for next spring.
Empty vegetable beds,

 

either plant spring cabbage or sow a green manure Phacelia Tanacetifolia, Clover,White mustard or buckwheat. I have sown clover, but would also like to plant spring cabbage!!! Green manures

 

fertilise the soil for the following crop mainly through the intake of nitrogen, which is then dug back into the soil ( cabbage likes lots of nitrogen).
Sow seeds of perpetual spinach, baby leaf kale, lettuce such as Mizuna red Emperor as you can also use this in stir fries. Sow seeds into best quality compost, err on having it warm as this also helps with germination.Theres are more.Last Sunday I planted at least 20 trays of ornamental, vegetable seeds — hope my students enjoy pricking them out !!!

 
What ever herbs that still look fresh, clip and freeze . Also if you have lots of tomatoes ,broad beans all these can be frozen for later use.
Flowers are setting seeds, collect when ripe on dry days

 

(damp will cause mould). Sweet pea, garden peas, broad beans all very easy( pods should be brown) for collection. Place into a paper bag, store in a dry dark consistently cool place in a plastic, metal or glass container. This can be a very interesting activity. A sweep pea packet of 20 can cost €2.49 not a lot but imagine saving your own and you can use the money for seeds you don't have.
You can start dividing some of your herbaceous perennials, such as Astrantia,Pulmoniara, Ophiopogan. If you have too much pot them up and share with friends. Be gentle with cutting back and autumn clean up of the garden as it is still providing food and shelter for many creatures.To prepare for their hibernation, hedgehogs eat as much as they can during autumn, munching on beetles, caterpillars and earthworms to build up good fat reserves. They will then seek out a quiet spot to rest for the coming months, usually in piles of dead leaves, stacks of logs, compost heaps or under garden sheds.The exact time they retire to this spot will depend on how mild the weather is. Hibernation can take place any time from October to April, but in a warmer winter you may still see hedgehogs out and about in December.
Keep dead heading your Dahalia's, as this prolongs flowering, food again for visiting pollinators.Saw quiet a few butterflies in the garden today Yippee.
Bulbs ,start getting them into the ground.Tulips are the last and generally are planted in Winter

 

November, December and even January. If you can consider planting organic bulbs.
The lawn, re-seed patches and also perfect for a new lawn. Did this in spring — disaster, soil too cold, too dry, now is perfect.

 

Scarifying or raking will really help with moss removal (moss is very useful for birds in spring for their nests not a total villain}. When I am collecting leaves or even planting and have made a mess on the grass, simply raking hard often is sufficient. Lawns are getting bad press now, but they act as an anchor for a garden, they absorb carbon dioxide, water soakage and give off oxygen. There is never a need to water it during droughts, leaving your grass cuttings feeds the soil, which brings us back task no 1. Biodiversity in your lawn is very welcome.
Fruit trees, apples, pears, plumbs, all can be give a tidy up now.My plumb tree gave me 3 plumbs this year. Fantastic flower in spring, frost around 14 May, not too hard but as my garden is very dry I suspect the severe lack of rain in April-May had an affect. Plumbs are members of the prunus family so only prune gently and do it now before dormancy sets in. Pruning now is for shape. Hedges could also be cut now for winter structure.