What some visitors had to say.
Mornington Garden 28 July 2017
 These visitors arrived at the gate on a very wet blustery-day and caught me, as she was heading off (they hadn't phoned ahead) and  I was delighted to welcome a lovely couple from Finland who had made the journey by DART to visit."A lovely garden to visit. We would recommend this beautiful place to be one of the very best gardens to visit" Lelia from Finland
March Garden Visit to Mornington Garden 2017
"Thank you Annmarie for showing Cliff and me your lovely garden and for the most unusual plan Melanoselinum decipiens which we will watch with interest." Maree Kirker
Peninsula Garden Group
"lovely tea and coffee to a great garden"
" A lovely experience"
" Very Friendly visit and a lovely garden"
"Thank you, it was a joy
" Just lovely"
"I loved it!"
"I enjoyed the garden so much!!" Trish F.
"Thank you so much" Catherine and Bob from Holland
In Ireland, we have perhaps the best growing climate in the world. As a gardener, I am passionate about what I do and wish to share it with others.
 087 2256365  or dalkeygarden@gmail.com   We are 10 minutes walk from Dalkey DART station, and just beside Fitzpatrick, Killiney Castle about 25 minutes from the city centre and 10 minutes from exit 16 M50.
Our postcode is A96 D293 and it should bring you to the door.Plenty of on-street free parking for cars and buses.
Lots of nice restaurants and pubs, even a Heritage Center in Dalkey where actors recreate our history !!!
Groups of 3 or more are welcome, please call in advance or the Garden Open sign is up.
 Entrance fee is €6 per person and for groups, I can arrange refreshments so let me know.
Opening the garden is for you to see and enjoy what beauty nature has for us.The garden was originally planted in the late 30'ies and I have been very active with it over the last 8 years, because of this I feel I would like to share and inspire you.
I have a mixture of trees, shrubs, herbaceous borders, a gravel bed, little water features and some time chickens  ( if the fox hasn't got them) and a vegetable and fruit garden. Creativity in the Garden and from the Garden is what I do here in Mornington. Sharing and learning help me believe we can leave behind a world of which we will be proud.Gardens, big or small, how we care for them matters. We do have a part to play in protecting the future.This is still a family garden, as I still have some children's swings ( which I like to use) and a see-saw which reminds me of the one in my parents home when I was growing up in Galway.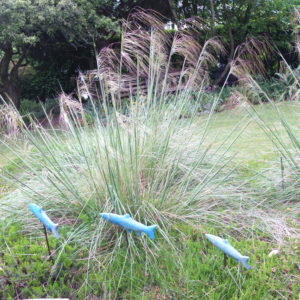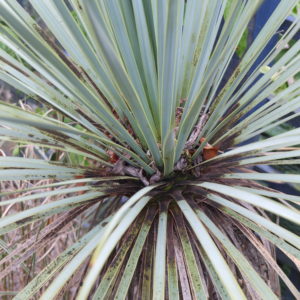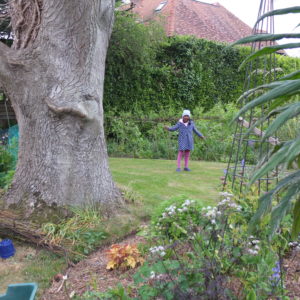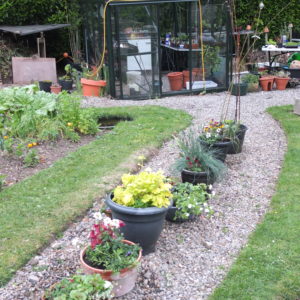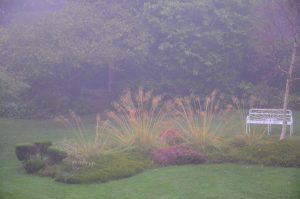 June 2017
"Thanks for presenting us your beautiful garden"
Laiola and Marco from Lieitteu Germany
"A lovely garden to visit. We would recommend this beautiful place to be on of the very best gardens to visit" Marie F. Odette G. Leila K.
"What a wonderful oasis – beautiful gardens Annmarie gave us a wonderful tour, lots of tips and ideas too. A fabulous way to pass an hour or two! Highly recommend a visit" Silvie R and Eric
Peninsula Garden Group
"lovely tea and coffee to a great garden"
" A lovely experience"
" Very Friendly visit and a lovely garden"
"Thank you, it was a joy
" Just lovely"
"I loved it!"
"I enjoyed the garden so much!!" Trish F.
"Thank you so much" Catherine and Bob from Holland