Classes will be held in Mornington Garden. i can also provide Gardening workshops via Zoom.
---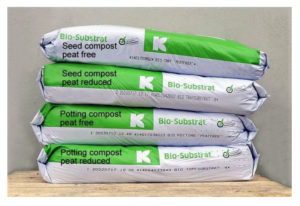 Certified Organic
Klasmann Peat free 

com

post  
When sowing seeds you need a sterile medium.
When potting up you need a compost that will start to feed your new plants.
Please contact me 087-225665 
Price does not include delivery  Limited stock buy now  
Getting rid of weeds now saves so much grief later on
Hoeing now, disturbs slug eggs, reducing their population, reducing loss of baby shoots.

A most popular tool! The double action Oscillating Hoe has an outstanding reputation for being fast and effective.  Also called the stirrup hoe.
How to use: Stand in an upright position holding the long handle. Move the hoe backwards and forwards using small movements (10-15cms) so that the hinged bladed moves back and forwards in the soil. The blade is parallel to the ground and cuts the weeds off at the root.
The blade of the oscillating hoe works parallel to the ground.
Weeds are undercut by pushing/pulling the sharp blade through the top layer of the soil.
Effect – weeds cut off and soil surface loosened for better air/water penetration.
Blades are made of high tempered spring steel to stay sharp.
Hoe widths available: 125mm & 85mm (other on request).
Blades are screwed on for easy replacement.
Price does not include delivery
Mornington 1st August 2020
---
Pruner designed for smaller hands
---
Designed for those with smaller hands who may prefer a smaller, lighter pruner.
It's comfortable to use yet every bit as sturdy and powerful as any other of the Felco pruners.
This great tool is ideal for small pruning work such as grape vines, shrubs and young trees, it is also the first choice of many florists. The anvil blade is screw-mounted for easy replacement. The shorter blades facilitate closer cutting to the stem of the plant.
---
Mornington Garden

 is open to small groups for garden tour with morning coffee or afternoon tea.

Booking is essential, we will be abiding with all  gov.ie regulations
Mobile: 087-2256365
Email: dalkeygarden@gmail.com
Annmarie
P.S. closed on Mondays and Tuesdays, also Tuesday 4th to Saturday 8th August inclusive.
Mornington Garden No dig
Botanical Mono Printing and Sketching in the Garden June 2108
Mornington May 17 2018
Some things to do in the garden in May.
Keep Weeding, use your osslating hoe often.
Start watering indoor plants liberally until autumn, include liquid fertiliser.
Refresh compost,remove dead or damaged growth.If your plant has outgrown your favourite pot, rather than buying a new larger pot, root prune and top prune, fresh compost and off it goes again.
Start hardening off all your now potted up seedlings.
Keep mulching soil before the plants grow too much and you can still get in between them and see what you're doing.
Allow your spring bulbs to die back naturally, dead head,including you're tulips as they fade.
Prune shrubs that have flowered such as Japanese quince, choisya and ribes.
It's a good idea to get ahead of the game by putting in supports for oriental poppies, peonies and delphiniums. Once plants have got going it's really difficult to try to prop them up and they may already be damaged. Look at putting in canes or pea sticks next to sweet peas, climbing roses, runner beans and peas, and tie the plants in to them as necessary.
Divide large clumps of grasses such as Calamagrostis, Stepa gigainata and Molina Transparent, they prefer a warmer soil to settle into.
Remove suckers from fruit trees and lilacs, also stray raspberry canes.
Sow runner beans, don't forget the supports.
Keep harvesting you rhubarb – freezes really well.
Start thinking of plants to put into your summer containers, include some wild flower seeds.
Sow basil, tarragon, coriander in pots, carrots in the ground ( don't forget about carrot root fly and how to protectthe carrots.)