Botanical Mono Printing and Sketching in the Garden June 2108
Ants in the Garden
Are ants in the garden bad? The good and bad news about ants and plants. Just as a weed is a plant growing in the wrong place, insects in the wrong place are pests. Ants play a very important role in the ecology of your garden for good and for not so good. ... Ants are predator and prey since they eat the eggs of many insects and serve as food for birds, lizards, and other beneficials. Their tunnels aerate the soil and allow water and nutrients to flow directly to the plant roots. They also distribute seeds by storing them in their tunnels. The caterpillars of some butter­fly groups - read more on Blog page
Mornington May 17 2018
Mornington Garden No dig
Upcoming Events
Book now for this is the second time to run this very popular workshop.An exciting introduction for  beginners to the fundamental skills of plaster casting. Deirdre will take you through her unique process of capturing flowers and foliage in plaster.  Create your own fossils from Annmarie's wonderful Mornington Garden full of specialist plants and flowers. You will take away at least  two marvellous unique works of art .  A maximum of 8 people, per workshop, this includes all flowers, materials, tools,refreshments and lunch are provided.Next workshop Saturday 22 July    10 – 4pm.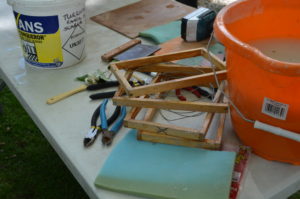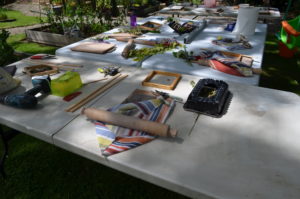 Book now July 15 10-1pm Paint a scene within the garden with Mairead O'Byrne Plein air painting is about leaving the four walls of your studio behind and experiencing paintingand drawing in the garden.The practice goes back for centuries but was truly made into an art form by the French Impressionists.
Mairead Byrne started teaching 1980 as a  full time art teacher after a degree in fine art and then the H.dip from  National College of Art Dublin.  Mairead was hugely involved in portfolio preparation with students, both at Sancta Maria College and schools all over Dublin. Now retired, is presently preparing for a solo exhibition in October. After an accident in 2013, she has had to redefine her technique and works now in oils taking inspiration from the landscape with a live of colour and texture. A history of textile work influences, a mark making technique, with the brush.
Refreshments will be provided and materials Book now   through the Dalkey Garden School  online  Shop