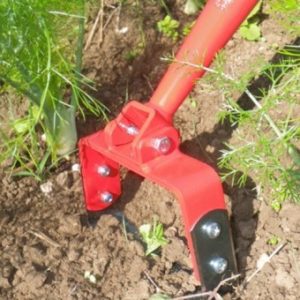 The Oscillating or Stirrup Hoe (Complete With Handle) is the most sought-after new garden tool  €44.oo
When they see these Oscillating hoes in action every gardener or vegetable grower will want one. The Oscillating Hoe has a razor sharp blade that travels below the soil surface and slices through the weeds where they are most vulnerable – below ground.  This stops or slows them from rejuvenating themselves because they have no foliage exposed to life-giving sunlight.
The Oscillating Hoes long handle allows you to reach in amongst vegetable beds without trampling on them. This fantastic garden tool also comes with a removable blade so it can be interchanged if damaged or worn. The blade can easily be re-sharpened with a stone or very fine file (If needs be). The blade also has a double edge so this garden tool can be used in a forward and backwards action.The one tool I absolutely need as it is a huge time, cost and environment saver.