Osslating Hoes back In Stock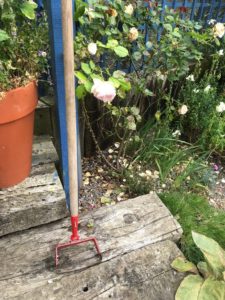 Spring  Gardening Classes - Thursday 30  January 10 - 1 pm .
Spring session        Thursday 30 January (2nd last day of winter)
for 6 weeks.
Midterm 20 February finishing up on March 12.
Spring/summer session   Thursday 2 April for 6 weeks.
Easter Holidays 16 & 23 April finishing up on Thursday 21 May.
Halloween is over the geese are getting Fat
- well Christmas is coming.
Saturday 30 November Sally Horn will be here to help us make Christmas wreaths and table decorations . You can either come in the morning or afternoon. Promise to have some Christmas treats to help us be really creative, nice way to start celebrating Christmas.
Don't leave it too late to book as places are limited and booking fast.
  
What to do Now in November
Build  a leaf pen for your garden leaves. As they decompose slowly it is better to have them separate. You can also fill black bags which will also allow the spent leaves to break down over time.
Finish planting  your spring  bulbs now.
Dahlias and other non hardy plants, Ginger, Canas can be lifted now, stored until all threat of frost has passed in early summer . If you are lucky to have a large  banana plant wrap it with straw, or fleece and protect the top with a bucket from heavy rain, otherwise lift it and bring it into a protected structure.
Cut our old growth on thornless blackberries, tai berries and logan berries, keep at least 3 new stems for next years fruit.
Continue to add organic matter to your flower and vegetable beds, such as last years leaf mould and if you have it also manure.What you are doing is not only feeding the soil, but also insulating it from harsh wet weather.

Now is also a good time to sow wild flower seeds. allowing them to germinate and start putting down roots.  Other than wild flowers mix up a selection of annuls which can give a similar affect. You can choose mixes for bees and butterflies, I did this last year and was delighted with the results, if you don't have a lot of space consider using large pots or containers. 

Hellebores are beginning to start flowering. If you buy one or 2 now how about enjoying them in your home for Christmas, and then plant out into the garden.
Time also to plant garlic as it likes the cold of winter to get it going. Plant deep, and use the biggest cloves, allow space to grow and choose  cloves which are guaranteed disease free( what you get from your supermarket  are not guaranteed for this.
Hedges trim now before it get too cold and frost at night.I have just cut my box hedging and as it is a slow grower I am delighted as I can scoop up the cuttings with all the other leaves hanging about.
Clean out your green house, Set up a warming mat system for your seedlings. Annuals such as cosmos, sweet pea can be sown now, in containers to get an early start..

Start to plant bare-root roses, hedging, trees - they can be planted any time between now and March.Bare roots plants are easy to plant, an dustily less expensive.Last years planting. check tree ties as you can imagine  your trees have put on a few inches.

Plant out bedding displays of pansies, violas and primulas.
Lots to do. Don't strip everything backs as it provides cover for not only the soil but the creatures that live there.Water, drinking water also crucial for visiting creatures. Focus on tidying your edging, preparing your compost heaps if you need help having your hedges cut book your help now.As autumn continues into winter, we will be coming into bare root planting  season.Lots of opportunities. Remember we are now in winter so gardeners don't forget to take time off!!! But you can still now start dreaming for the future, check out seed catalogues and start to plan what you wish to grow next year.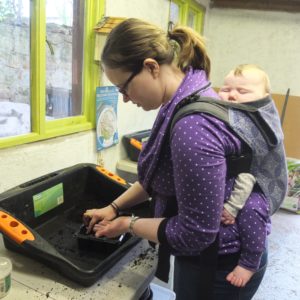 Spring session        Thursday 30 January (2nd last day of winter)  for 6 weeks.
Midterm 20 February finishing up on March 12.
Spring/summer session   Thursday 2 April for 6 weeks.
Easter Holidays 16 & 23 April finishing up on Thursday 21 May.
Mornington Garden No dig
Botanical Mono Printing and Sketching in the Garden June 2108
Ants in the Garden
Are ants in the garden bad? The good and bad news about ants and plants. Just as a weed is a plant growing in the wrong place, insects in the wrong place are pests. Ants play a very important role in the ecology of your garden for good and for not so good. ... Ants are predator and prey since they eat the eggs of many insects and serve as food for birds, lizards, and other beneficials. Their tunnels aerate the soil and allow water and nutrients to flow directly to the plant roots. They also distribute seeds by storing them in their tunnels. The caterpillars of some butter­fly groups - read more on Blog page
Mornington May 17 2018
We learn through fun and it is an opportunity for friends to do something creative together as are all these workshops.
Botanical Mono Printing with Dee Crofts Saturday, June 9  10 – 1 pm 
This will be a unique experience allowing you to use nature as your inspiration to produce prints on fabric. All materials are included and you will not only learn, you will have a print to hold onto forevermore. This is a first time this workshop has been run and judging by others is a must.
Art in the Garden(drawing) with Mairead Byrne on Sunday 10 June from 10 -1 pm
Mairead is a talented artist and teacher and she will guide you on drawing technique while using the garden as your inspiration.
Arranging Garden Flowers with Sally Horn on Saturday 16 June (Blooms Day)
2-5pm.
Sally is an experienced artist in flowers. She will share her creative techniques with you and encourage you with the same. We will be using flowers and greenery from the garden, if you have a special vase you would like to us bring it with you
Botanical Plaster casting with Dee Crofts. Saturday 23 June 10 – 4 pm
We ran this workshop twice last summer and the response to not only learning and creating a unique piece of art was fantastic. Lunch is included in this workshop.
Again all materials are included.